"If one thinks about wall care products, the name Trimurti must flash through their minds."
That was the vision with which Mr. Manik Gupta and Mr. Rahul Gupta laid the foundation of Trimurti in 2004. Since then we have come a long way. Over the course of 16 years, we have, in fact, become the one-stop-shop for Plaster of Paris (P.O.P.), Wall Putty, One Coat Gypsum Plaster, and Hardware Products. We are one of the leading manufacturers, exporters, distributors, and suppliers of wall care products.
Trimurti has a competent workforce of skilled and talented people who make this company a well-lubricated single machine that works efficiently to service their clients anytime and in any capacity. Trimurti has set its quality standards equivalent to the international conglomerates, so that our consumers can get world-class products locally. Our focus has always been consumer-centric and we work relentlessly to make better living opportunities, homes, environment, and community. This approach and our corporate professionalism have given Trimurti an exponential growth and created an enviable rapport among our clients which made us the most trusted and preferred brand among Builders, Architects, Interior Decorators, and Contractors.
Trimurti also invests in research and development of its products and whether it is suitable for our clients' needs. We make sure that innovation and creativity are not lost in our products and go hand in hand with the quality of the products.
Trimurti also believes in preserving the resources for future generations which is why the research team always tries to find out the highest quality raw material and superior yet sustainable technologies to work with. After all, our products bring infrastructures a beauty that lasts.
Trimurti is an ISO 9001: 2008 certified and ISI accredited companyheadquartered in New Delhi with production facilities at Bikaner & Alwar Rajasthan. Trimurti is active in more than a dozen regions of India including Punjab, Uttarakhand, Haryana, New Delhi, UP, Bihar, Assam, Rajasthan, Gujrat, Bhopal, Chhattisgarh, Karnataka, Pune, and Mumbai. Our first-rate portfolio of brands includes Amrapali Group, Delhi Development Authority, Hilton Hotels & Resorts, DLF, L&T, TAJ, DMRC, and many more.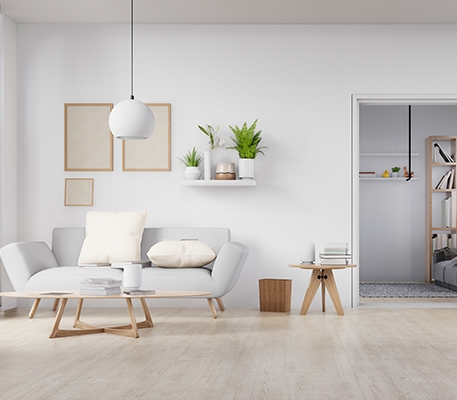 Mission
To keep a consistent growth of our firm in the future and accomplish shorter goals to help us to become the best gypsum plaster and putty provider in India and across the world.

Vision
To be acknowledged as the name of Indian plaster and putty provider in the global market. We want to reach out to the global market as the face of our country when it comes to Gypsum plaster and white cement-based putty.
Our values
Timeliness and deadlines are always at the core.

Preference is given to skill and not only to machines.

Implementing International standards of quality management.
2004
Established our foot in the business with 1st POP Plant producing 9600 ton POP yearly.
2007
Gained the ISI Mark with adding two more factories in Bikaner, Rajasthan producing 30,000 ton POP yearly.
2011
Growing our strength to 4 more factories In Bikaner producing 90,000 ton POP yearly.
2014
Inaugurating new Wall putty plant in Alwar Rajasthan adding 36,000 ton yearly to our business.
2012
Bringing One coat Gypsum Plaster And Quick Bond in the Trimurti Family.
2019
Taking step forward with Launching trimurti hardware products.
"On our construction site, we always use Acrylic distemper from Trimurti Products to finish the walls. It is highly washable and dries within 6-7 hours. We recommend it for all types of buildings."
"I ordered one coat gypsum plaster from Trimurti Products (Kaya Maya Industries) because they are one of the biggest producers in India. I am very happy with the quality and recommend this product very much."
"Wall finishing and Block jointing was on the cards next and I took the bold step of ordering Trimurti Products AAC Block Jointing Mortar. It worked wonders for us in our construction work."
"With Trimurti Products, I have never faced any problem in ordering and receiving construction materials. Being a civil engineer, I am able to satisfy the needs and demands of my clients. Thanks to this company!"